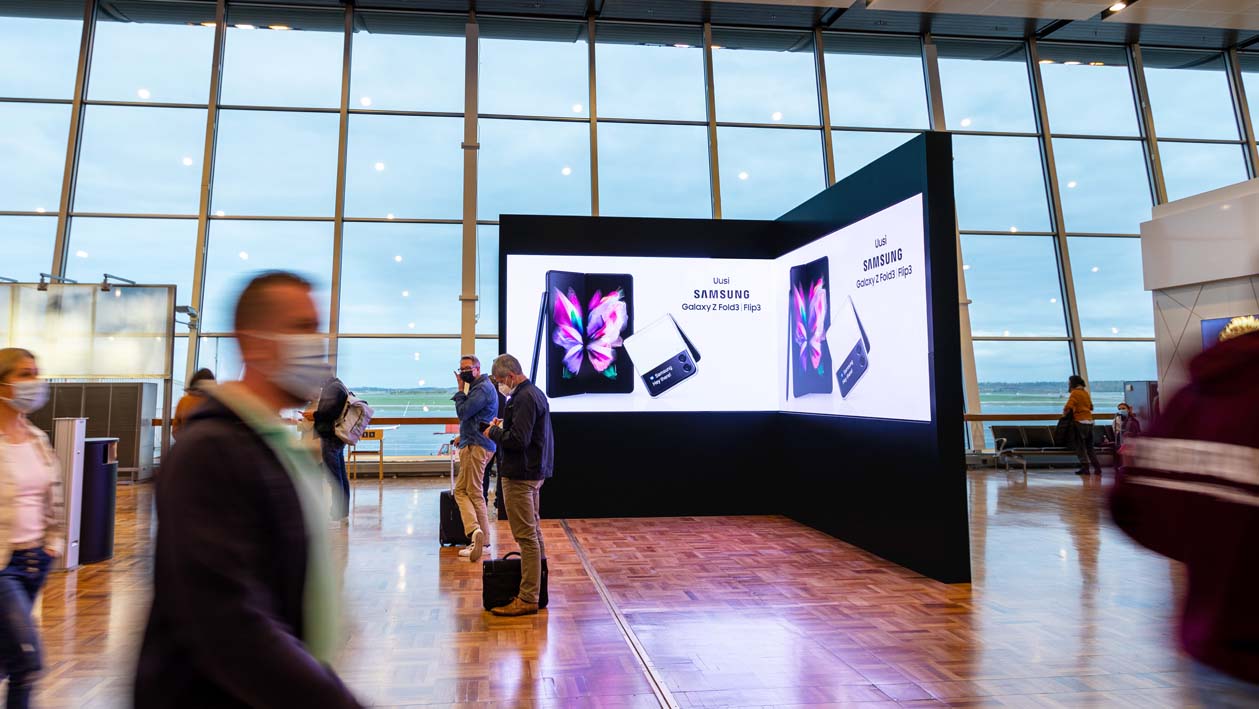 DOOH, in other words, digital out-of-home advertising offers advertisers a wide range of incredible opportunities in this era of modern marketing and attention economy. Consumers are spending considerable amounts of time on social media, which means that companies need to fight for their share of consumer attention in these marketplaces. Therefore, companies need an edge to get their message across and increase brand awareness.
But why would DOOH advertising be better than other marketing channels? Why should companies consider targeting their marketing investments at this channel?
Read on to find out why DOOH is the future of advertising.
WHAT DOES DIGITAL OUT-OF-HOME ADVERTISING MEAN?
Many of us forget that out-of-home advertising (OOH) is basically visible all around us. Out-of-home advertising does not interrupt or disturb anything, which is the reason why it is considered as a natural part of the streetscape. Brands are met with a positive and open state of mind at the best and most visible spots in the city.
Some DOOH advertising examples are large premium sites located outside shopping centres and in other busy places where people meet, for example Kamppi Shopping Centre's The Wall, Musiikkitalo's The Fame and Lasipalatsi square's The Rex.
Digital OOH screens are also visible elsewhere in the city centres as well as in shopping centres, airports, railway stations, harbours, public transport stops and in their immediate proximity. More and more digital out-of-home advertising is also found by busy roadsides.
DIGITAL OUT-OF-HOME ADVERTISING ADVANTAGES
All new products, services and technologies need to have a unique selling point (USP), which crystallises why the consumer should select precisely this product, service or technology. Digital out-of-home advertising includes several excellent selling points which we will introduce below.
REACH LARGER AUDIENCES
Consumers no longer rely solely on traditional media channels for their information, which makes it more challenging to reach audiences. For example, the popularity of online news has weakened the position of printed newspapers and paying for TV streaming services allow people to view their favourite shows and movies without watching the advertisements of commercial channels. With DOOH, you can reach consumers when they are on the move – not looking at their mobile phone or tablet. Few other media offer this potential to speak to customers when they are not distracted by other advertisers.
According to Nielsen's study, more than half of consumers have noticed digital out-of-home advertising when moving around in the city. Of these consumers, 65% had visited a store after seeing the advertising and 62% say that they have searched for more information about the advertised product or service online1. Due to the pandemic and increase in the use of private cars, roadside media has proven to be an effective communication channel, as six out of ten consumers say they have seen out-of-home advertising during their shopping trip2.
FLEXIBILITY
Advertising through the traditional media allows advertisers very little flexibility in terms of advertising content design. To grab the consumer's attention, you need to keep your message simple, and this means you can only put a limited amount of information in one advertisement. But, when using digital out-of-home advertising, advertising content can be adjusted flexibly and on a case-by-case basis. For example, a retailer can display a daily countdown to a future discount campaign on digital OOH screens to encourage sales. However, if it was decided to postpone the campaign or another product enjoyed higher demand, the content of the advertisement could be quickly changed. Similarly, educational institutions can appeal to science-orientated students one day and people interested in adult education the next.
BECOME A STORYTELLER
Static advertising can only convey a single message or a small part of a narrative, but DOOH enables storytelling in advertising contents. As an advertiser, you can tell the consumer why they should buy precisely from your company and make buying easy.
In order to boost the impact of advertising and raise maximum interest, you should include video in your digital out-of-home advertising. The most advanced out-of-home advertising screens even utilise 3D technology, which adds to the customer's advertising experience.
COST-EFFECTIVE ADVERTISING
Traditional marketing methods demand a considerable amount of manual work which means costs can be high. Even investments in online strategies may result in high outgoings and, for example, SEO methods need constant attention to adapt to search engine algorithm changes.
DOOH enables takeover of the entire advertising space for your own brand or, alternatively, sharing the space with other advertisers. This is a great way to keep costs low, especially for advertisers with a lower budget.
When the advertising is digital, the out-of-home advertising content can be updated in real time triggered by an external factor, such as the weather, time of day or location. In this way, the context of the out-of-home advertisement can be utilised in a more flexible and cost-effective way. It is also an effective way to increase the campaign impact, as studies show that dynamically evolving creatives had a 38% higher impact on long-term memory than static creatives.
DOOH marketing also offers the opportunity to easily experiment with the functionality of different advertisement types. You can then find out which implementation best addresses your target audience and focus on providing more of these advertisements.
MORE INTERACTION WITH THE AUDIENCE
Consumers love to interact with brands and companies they value, trust and share values with. This is why, for example, online quizzes and polls are so popular. Audiences can also be engaged through the means of digital out-of-home advertising: for example, you could let people use an interactive map to find your premises or raise the interest of passers-by with out-of-home advertising which reacts to movement. Or, maybe you can attract consumers to enjoy different special implementations utilising games or social media feeds with you.
DOOH IS ONE OF THE WINNERS OF THE COOKIE-FREE WORLD
According to Alfi's global survey, investments in digital out-of-home advertising will increase faster than expected due to third-party cookie blocking. As a result of digitalisation, consumers are more and more worried about their privacy. In this "new world", out-of-home advertising is the torchbearer of media by offering a means to target advertising without the need to collect personal data, which is a more accurate and safe way to target advertising than targeting advertising on the basis of cookie data. All in all, 85% of advertisement decision-makers believe that digital out-of-home advertising and online advertising utilising first-party data will significantly increase in the coming years3.
And, there is more. In 2020, the opportunities provided by digital out-of-home advertising reached a new level when we launched the Audience Engine and Heartbeats targeting tools which help the advertisers reach their target groups even more precisely.
Got interested? Please contact our Clear Channel sales team and find out how we can help your business grow!
SOURCES
1: DOOH Engages Consumers and Drives Activations. OOOA & Nielsen, 2020.
2: Why Digital OOH is especially effective right now? Sightline, 2020. (referred to in an Marketing Dive article)
3: DOOH To Benefit From Decline Of Third-Party Cookies. Alfi, 2021.
Primary source of this article: DOOH Advertising Explained: What are the Benefits? Clear Channel UK, 2021.